Things to Do on Lake LBJ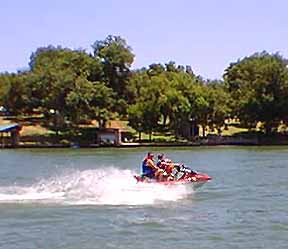 Boating is fantastic on Lake LBJ. You can boat for 21 miles on the lake, exploring the coves along the way, then boat up the Colorado River for about 5 miles, and boat up the Llano River for a couple of miles.

Jet skiing is great on Lake LBJ. You will not find Lake LBJ too crowded for great jet skiing.

Like to waterski? It would be hard to find a better lake for waterskiing than Lake LBJ. This beautiful constant level lake offers the best condtions for water sports.

Be sure to visit the slab in Kingsland for sunbathing and playing the the shallow running water.

There are several waterfront parks on Lake LBJ that you can enjoy in Granite Shoals. You can launch your boat and jet skis there, and go swimming, or just have a picnic and watch the fun on the lake.

There are several towns around Lake LBJ that have things of interest. You can visit Kingsland, Granite Shoals, Horseshoe Bay and a couple of smaller villages. Some of the towns have events for tourists.